© Getty Images
Use Red Hair Dye for a Unique and Captivating Look
From auburn all the way to burgundy, red hair dye covers a tremendously wide spectrum! This color is incredibly eye-catching and we're sure that there's a suitable shade for everyone out there. So, if you want your inner redhead to emerge, discover how to get the look as well as care tips to keep red hair looking vibrant.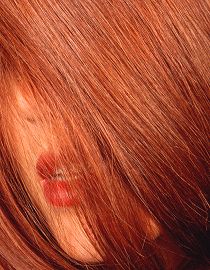 Believe it or not, natural red is actually the rarest hair color in the world! That's why it should come as no surprise that red hair dye is such a hot item these days. From movie screens to runways to fashionable streets, fiery hair is always the one that makes heads turn! If you want to take the plunge, consider the following colored hair tips for dyeing and maintenance and become a trailblazer for this trend.
Does red hair dye fade quicker?
Although it might be annoying to hear, red hair dye actually fades more quickly than other types of hair dye. This is the same case for any brand, because red dye molecules simply don't penetrate the hair as well as those of other colors. As the coating isn't as deep, it therefore fades and washes out faster than you'd ideally like. That said, you'll still get a good 6 weeks of this great, fiery dye before needing a touch-up at the salon or turning to a DIY method at home.
With the right care and TLC, the vibrancy of red hair dye can be prolonged by shampooing less frequently and by using the correct product. Discover great shampoo for red hair and you'll be able to keep your hair looking vivacious and bright for much longer. Wear a swimming cap when in a pool or the sea, and cover your hair with a hat when in the sun to help your crimson hair keep its color.
Experiment with streaks to find the best red hair color
Temporary red tints can help you test red shades out in your hair, provided the red hair color of your choice is not lighter than your natural hair color. Testing also gives you the opportunity to find out whether red can be your long-term hair color or just a fun, seasonal trend to try out. You can have a go at temporary red hair dye to find the best hair color for your skin tone. Red streaks are another way of slowly approaching your new red hair color. These are good ways to test the waters and see whether red hair suits you! Streaks are a subtle compromise when you play with the idea of wearing your hair red but don't want to transition to a bright, flamboyant red color right away.
The right shade of red hair dye for your hair and skin type
Do you fancy a flamboyant shade of pomegranate red or are you more partial to a warm caramel red? Because there are many red hair dye shades, you might want to narrow your choice by considering the natural tones of your hair and skin as guides:
Reddish blonde and light copper shades are ideal for blondes with lighter skin.
If your hair is dark blonde or light brown with a light to medium skin color, the red shade best suited to your hair will depend whether the underlying tone to your complexion is cool or warm. Cool and bluish shades like cherry red, burgundy, and auburn are suitable for rosy or olive complexions. Warm red shades like copper, copper beech, and reddish-gold are ideal for yellowish, peach, or golden complexions.
Medium to dark brown hair comes to life if combined with intensive red and mahogany shades.
Very dark or black hair combines well with cherry red and black-red shades.