© Istockphoto
Brunette Hair Care: Maximum Shine for Beautiful Hair
Blonde and red hair gets everybody's attention at first sight - for a second. Second looks linger. The attention lasts longer. This is a good reason to always present brown hair at its shiny best, starting with the right shampoo for brown hair and some special hair care tricks.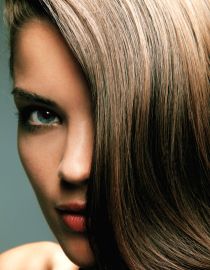 Brown hair tends to reveal its special appeal to us on second look, just like our cherished black cashmere shawl, our perfect sports jacket or our favorite jeans. Our appreciation grows over time as we look closer. Of all hair colors, brown hues are the richest in pigmentation. With the right care, brown hair is a feast for the eyes just like a five course meal is a feast for our senses. Neither is in easy reach without effort, dedication and the right ingredients.
Brunette Hair Care - How to Keep Gorgeous Brown Hair Spectacular
UV protection is one of the most important hair care tips for brunettes, almost as much so as for blondes. While the natural brown pigments are indeed able to convert UV rays into heat, in the long run the sun will still cause brunettes to appear pale. An essential part of brunette hair care is protecting it from the sun's rays, especially if the hair has been color-treated. UV rays fade artificial pigments faster than the natural ones. Long-term UV exposure also weakens and destabilizes the hair. Certain types of shampoo for brunettes can help to protect the color and limit fading caused by UV rays.
After changing your hair to a brown color, you should use hair care products for color treated brown hair. Such products tend to the color and give hair luster at the same time. First and foremost, use products that are specially formulated for brown hair; shampoo is especially important. Aside from special shampoos and conditioners to give brown hair a rich shimmer, you can also use leave-in treatments or cures as part of your brunette hair care routine. Cures and treatments can be sprayed into the towel-dried, still damp hair. These treatments deepen the brown and produce warm light reflections in your hair.
Chlorinated or copper-containing water may cause a visible green tinge in lighter brown colored hair. Aside from using brunette shampoo, there is a home remedy against this effect. It consists of an acidic rinse either with diluted lemon juice or with Aspirin tablets dissolved in water.
The brown color may lose its radiance between colorations. The right brunette hair shampoo can help to protect against color fade, but you can also bring new highlights to your hair by using an ammonia-free tinting crème, which will rinse out and will not fundamentally change the color of your hair. The tinting crème will, however, add deep color effects with warm light reflections to your hair.
Natural oils, such as the oils from olives, argan nuts and apricot stones condition and help to build up the substance of every individual hair. These oils are an ideal ingredient when it comes to brunette hair care; they condition the hair and give it long-lasting natural shine. You will see the best results if you use a regular repair treatment containing such natural shine boosters.