göt2b® Launches New Web Series, Turning the Tables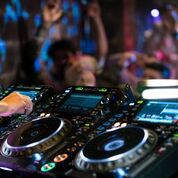 Millennials and GenZ are both known for switching it up and playing by their own rules. The all new original series by göt2b®, Turning the Tables, celebrates the #MEbyME moments that shape our minds and our style. Follow the drama of characters Jay, Fin, Chase, and Ash as they battle to rule the EDM scene, and watch how Jay's style evolves to express her new identity.
Don't miss this compelling series! All the episodes can be found here.

Turning the Tables gives you a glimpse into Jay's life
Jay is a young star on the rise, studying classical music and vying for a coveted spot in the symphony, but her world gets rocked when her best friend vanishes, leaving Jay to retrace her steps through the underground music scene. Follow Jay on her journey through friendships, influential music and love interests, and witness how she updates her style along the way. The underground scene is full of characters, from her mentor Chase who teaches her the tricks of the trade, to Fin, the cutest bartender you've ever met, and Ash, the poetic songbird with style to match. Does Jay have what it takes to win a battle of the beats? Will she ever find her roommate? Watch the show to find out!