© Alamy
Foam Tint: Easy to Use
Do you feel like changing your hair color? Permanent hair colors make it possible. In case you prefer changing your image in the privacy of your home, hair coloring should be as simple as possible. There should be no mess when applying the color and no drips while you allow the colorant to work. Last but not least, the result should be natural, brilliant and even. You can achieve all this using an airy foam color application, no skills necessary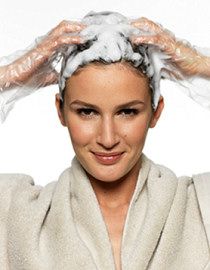 Coloring your hair yourself can be tricky. You need to be pretty limber to apply the color evenly to the tiny hairs in your neck area, to say nothing about the sprinkling of color dots on the bathroom tiles…
 
Using foam color makes changing your hair color pure pleasure. You can apply the foam like a shampoo. The foam feels light on your scalp, it smells pleasantly (since it contains no ammonia), it does not drip and stays where it is needed. In addition, the foam can be applied evenly to cover even grey hair styles.

You should not mistake using a foam color treatment and using mousse to tint your hair. The pigment in the tinting mousse only attaches to the outside of the hair and coats it with a fine color film, which quickly starts disappearing from your hair. Tinting your hair with mousse will last no longer than 6 shampoos on the outside. The tinting mousse does almost nothing for gray hair. A real color treatment, even a foamy one, requires that you mix two ingredients. This is how you can tell the difference between coloring and tinting. Different from a tinting mousse, the foam color penetrates the hair for as long as you leave it in your hair and colors it permanently. Foam color covers gray completely.

Applying foam color is easy:
Step 1:

Drape a towel around your shoulders to protect your skin. It is best to hold this towel with a clip to keep it in place. You should wear the provided gloves

Step 2:

Put the colour gel into the applicator bottle

Step 3:

Close the applicator bottle with the provided pump seal. Now turn the applicator bottle upside down and back one time only. Very important: Do not shake the applicator bottle

Step 4:

Do not pre-wash your hair. Pump the foam directly into your gloved hands and first apply it to the dry hair in the front of your head. It is best to begin the colouring where you find most of your grey hair

Step 5:

Distribute the rest of the foam colour all through your hair including the hair in the back of your head

Step 6:


Thoroughly massage the foam colour into your hair like a shampoo until every hair is covered with foam


Step 7:

Make sure that all hair is well covered with foam colour at the base 


Step 8:

Allow the foam colour to stay in your hair for 30 minutes. Then thoroughly rinse out the foam using warm water

Step 9:

Massage the provided conditioner into your hair and leave it in your hair for two minutes. Now thoroughly rinse out the conditioner. It's done!
Further Important Information about Foam Color
Don't save in the wrong place. Always use an entire bottle of foam color. Use two bottles for very long hair
Do not save residual foam color for later. Once mixed, the foam color must be used right away
Be sure to adhere to the application time. The coloring process occurs in several steps. You may not be satisfied with the result if you rinse the color out prematurely
It takes a bleaching color (like pearl blonde) to lighten your hair. The sky is the limit If you like to darken or deepen your color to hazelnut brown, chocolate brown or all the way to black to name a few choices
Make sure not to go too wild with your color changes. Most women look most attractive with a hair color no more than two or three shades away from their natural color
Do not wash your hair before coloring it. The natural sebum layer does a good job protecting your scalp from the chemicals in the hair color
Dyed hair stays beautiful for a longer time if you use shampoo and rinses for color-treated hair. These products provide extra conditioning and keep your new hair color fresh and glowing even after many shampoos